Trade UP ANY BRAND of old electronics for 20%-off select* new Anthem processors, receivers or amplifiers!
It's time to retire that old processor and graduate to multi-channel, your antique amp is running dangerously hot these days, and your old receiver is not "tuning" in to the latest streaming audio technology. Trade them UP to new Anthem electronics today, and get a minimum** of 20%-off the purchase price of the newest, most powerful technology from Anthem.
* Offer not valid on STR Integrated Amplifier. Can not be combined with other promotions.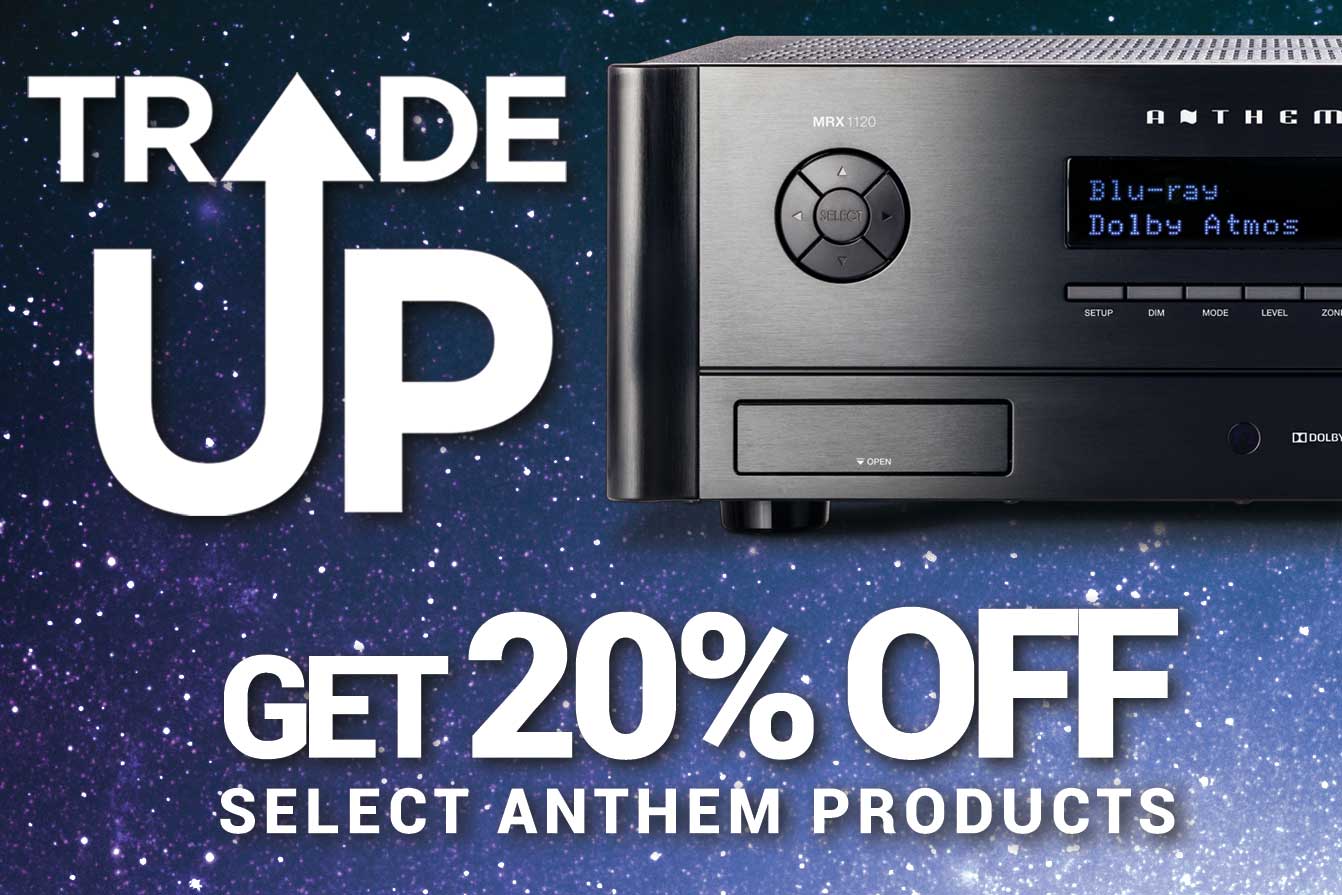 LIMITED TIME OFFER:

May 1 -

June 30, 2017


EXTENDED to July 15th, 2017
Now includes AVM 60
Get a minimum of 20%-off the purchase price on the P5 5-Channel Amplifier, capable of 325-Watts/channel; or the overwhelming 11.2 MRX 1120 A/V Receiver featuring on-board Anthem Room Correction (ARC) Technology, Dolby Atmos & DTS:X immersive sound processing, and more. Anthem offers audiophile-grade high performance electronics for any audio/video application.
There has never been an offer like this in the history of audio electronics. And it's only good for a limited time. So disconnect all those dusty old components and bring them to your local Anthem dealer today.
Learn more about Anthem products »
Promotion Details
Simply fill out the information below and we will email you a special coupon code good for 20%-off your purchase of select** Anthem products. Bring the coupon code and your old electronics (any brand!) to a participating dealer and you'll get a minimum* of 20%-OFF your new Anthem electronics purchase.
** Minimum direct-from-Anthem discount is 20% with qualifying trade-in. Depending on model, age, and condition of your old components, the dealer may, at their discretion, offer an additional discount toward your purchase. Offer not valid on STR Integrated Amplifier. Offer is valid only in US & Canada, and only for May 1 - June 30, 2017 EXTENDED to July 15, 2017. Can not be combined with other promotions.
The promotion is over.