We've partnered with these exclusive dealers below that support Dolby Atmos and will provide live demos as well as recommendations for how to set up your dream system with this immersive sound experience.
---
AZ
Audio Plus
2225 E. State Rd. 69
Prescott, AZ 86301


928-771-9454
Visit website »
Epic Systems
7307 E Navarro
Mesa, AZ 85209


480-888-5571
Visit website »
---
CA
Audio Video Integration
647 Francisco Blvd East
San Rafael, CA 94901


415-526-0070
Visit website »
Executive Audio Video
12261 Industry St.
Garden Grove, CA 92841


714-892-4325
Visit website »
Home Theater Solutions
3425 Vineyard Rd.
Novato, CA 94947


415-892-5573
Visit website »
---
CO
Electronic Integration
1205 S. Platte River Drive
Denver, CO 80223


303-761-7277
Visit website »
---
CT
The Audio Store
2457 Berlin Turnpike
Newington, CT 06111


860-666-5006
Visit website »
---
DE
Overture Ultimate Home Electronics
2423 Concord Pike
Wilmington, DE 19803


302-478-6050
Visit website »
---
FL
Integrity Sound
8111 Lakewood Main St. Ste 103
Lakewood Ranch, FL 34202


941-360-2412
Visit website »
---
GA
Atlanta Audio & Automation
631 Miami Circle Ste 15
Atlanta, GA 30324


770-977-9110
Visit website »
---
IA
Audio Labs
2212 Ingersoll Avenue
Des Moines, IA 50312


515-288-2216
Visit website »
Hawkeye Audio/video
6322 University Ave.
Cedar Falls, IA 50613


319-277-4566
Visit website »
Hawkeye Audio Video
2050 Boyson Rd.
Hiawatha, IA 52233


319-294-6924
Visit website »
---
ID
Aspen Sound
350 W. Cherry Lane
Cour D'alene, ID 83815


208-667-7845

---
IL
Av Performance Innovations
6523 N. Galena Road
Peoria, IL 61614


309-266-9111
Visit website »
Av Performance Innovations
911 Detroit Ct
Morton, IL 61550


309-266-9111
Visit website »
Saturday Audio Exchange
1021 W. Belmont Ave
Chicago, IL 60657


773-935-8733
Visit website »
Simply Stereo
1280 West Higgins Rd.
Hoffman Estates, IL 60169


847-882-2885

---
IN
Technology Interiors
8977 E 116th St
Fishers, IN 46038


317-284-1084
Visit website »
---
KS
Naturally Wired
16100 Foster Street
Overland Park, KS 66085


913-385-9926
Visit website »
---
KY
Barney Miller's Inc.
232 East Main Street
Lexington, KY 40507-1310


859-252-2216
Visit website »
---
LA
Wilson Audio
3133 Edenborne Ave
Metairie, LA 70002


504-888-8851
Visit website »
Uptown Audio Video
5416 Veterans Memorial Blvd.
Metairie, LA 70003


504-613-4788
Visit website »
---
MD
Chesapeake Systems Service
10921 Pump House Rd. Ste B
Annapolis Junction, MD 20701


301-317-0001

---
MI
Bekins Audio/video And Appliance
735 Washington Avenue
Grand Haven, MI 49417


616-842-4010
Visit website »
Classic Stereo
6275 28th St. Se
Grand Rapids, MI 49546


616-301-3388
Visit website »
Bekins Audio/video And Appliance
6275 28th St. Se
Grand Rapids, MI 49546


616-957-2333
Visit website »
---
MN
Halsten Entertainment
7650 Wayzata Blvd.
Golden Valley, MN 55426


763-545-9900

Audio Video Extremes
1131 2nd St S.
Waite Park, MN 56387


320-217-5877
Visit website »
---
MO
The Sound Room Ii Inc.
17373 Chesterfield Airport Rd
Chesterfield, MO 63005


636-537-0404
Visit website »
---
NE
The Home Theater Store Llc.
2510 S. 140th Street
Omaha, NE 68144


402-393-2108
Visit website »
---
NH
Audio Video Therapy Llc
216 Daniel Webster Highway
Nashua, NH 03060


603-888-9777

---
NJ
Outreach Av
6 Thomas Ct
Westfield, NJ 07090


908-967-5990
Visit website »
The Home Theater Group
299 Route 22 East
Greenbrook, NJ 08812


732-424-8680
Visit website »
---
NV
Channels
5475 Reno Corporate Dr. Ste 600
Reno, NV 89511


775-229-3024
Visit website »
---
NY
Speaker Shop
3604 Main St
Amherst, NY 14226


716-837-1557

---
OH
Perfect Solutions Av
614 Wooster Pike Suite 4
Terrace Park, OH 45174


513-831-7728
Visit website »
Sound & Vision Inc.
750 Howe Ave.
Cuyahoga Falls, OH 44221


330-923-5933
Visit website »
Custom Audio Concepts
909 E. Wayne St Ste 126
Celina, OH 45822


419-586-0999
Visit website »
Custom Audio Concepts
2311 Elida Rd.
Lima, OH 45805


419-331-0050
Visit website »
Jamiesons' Audio/video
5421 Monroe St.
Toledo, OH 43623


419-882-2571
Visit website »
Genesis Audio
132 North High Street
Gahanna, OH 43230


614-939-0802
Visit website »
Sound & Vision Columbus
1216 East Powell Road
Lewis Center, OH 43035


614-785-9700
Visit website »
Custom Audio Concepts
1196 Westwood Drive
Van Wert, OH 45891


419-238-4345
Visit website »
Sound & Vision Inc.
28700 Chagrin Blvd.
Beechwood, OH 44122


216-292-0300
Visit website »
Sound Advice Llc
1126 Ferris Rd.
Amelia, OH 45102


513-943-1234

---
PA
Simply Automated
190a Industry Drive
Pittsburgh, PA 15275


412-343-0348

Digitalfuturenow
45 Warwick St.
Bethlehem, PA 18018


610-866-9961
Visit website »
---
SC
Av Performance Innovations
10177 N. Kings Highway
Myrtle Beach, SC 29572


843-492-0313
Visit website »
---
TN
Statement Media & Designs
6739 C Kingston Pike
Knoxville, TN 37919


865-766-0016
Visit website »
---
TX
Kmr Av & Automation
27502 Frazier Rock Ct
Fulshear, TX 77441


281-780-9383

Stereo & Video Center
5711 S. Broadway
Tyler, TX 75703


903-561-7455

Kmr Av & Automation
4031 Fm 1463 Rd Ste 40
Katy, TX 77494


281-780-9383

---
UT
Lynn's Audio & Video
1655 North Main
Logan, UT 84341


435-752-6564
Visit website »
Show & Tell Av Solutions Llc
483 West 325 South
Bountiful, UT 84010


801-609-8468

Tym Homes
9284 South 300 West
Sandy, UT 84070


801-783-1958

---
WA
Aspen Sound
N. 7316 Division
Spokane, WA 99208


509-993-2978

---
WI
Precision Cellular & Sound
87 Sunset Blvd.
Stevens Point, WI 54481


715-343-8000

University Audio Shop
402 S. Park St
Madison, WI 53715


608-284-0001
Visit website »
Suess Electronics
2520 W. Wisconsin Ave.
Appleton, WI 54914


920-733-6464
Visit website »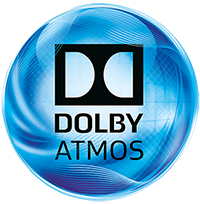 Experience Immersive Dolby Atmos Sound
Dolby Atmos® is a revolutionary new audio technology that transports you into extraordinary entertainment experiences by filling your room with captivating sound from all directions, including overhead, to fill the room with astonishing clarity, richness, detail, and depth.
Fills your room with captivating sound. Sound that comes from all directions, including overhead, to fill the room with astonishing clarity, richness, detail, and depth.
Puts sounds into motion all around you. The specific sounds of people, music, and things move all around you in multidimensional space, so you feel like you are inside the action.
Delivers the full impact of the artist's work. Artists have amazing new capabilities to tell their stories, accent their games, or perform their music to achieve the greatest expressive impact.
Moves your mind, body, and soul. Sound excites your senses and inspires your emotions, flowing around you and connecting with you to create a more profoundly moving experience.
Dolby Atmos Configuration Options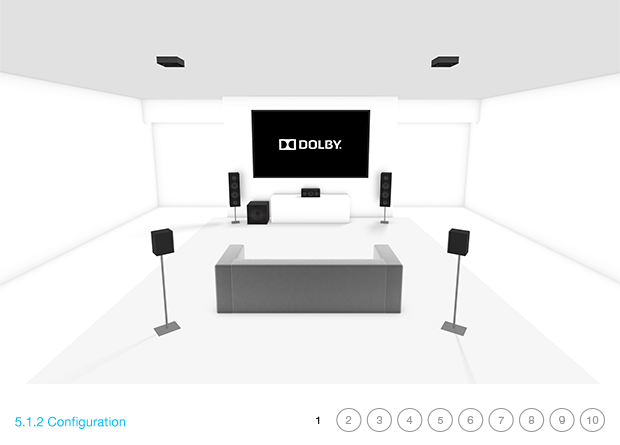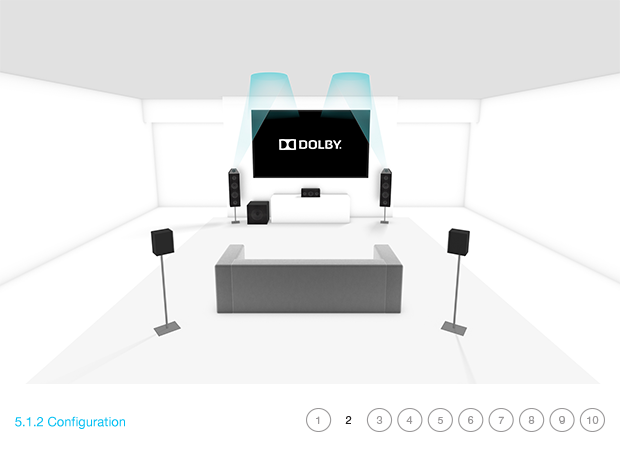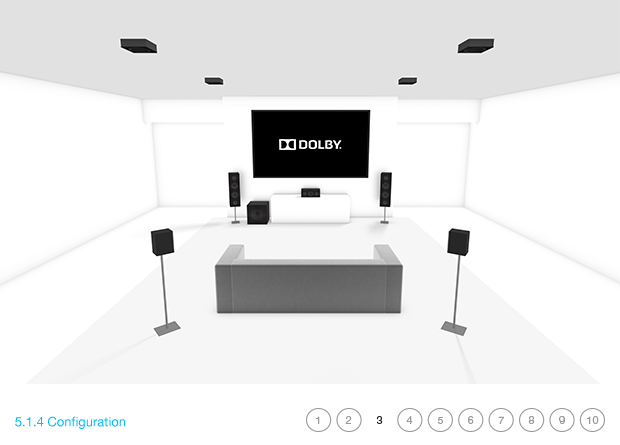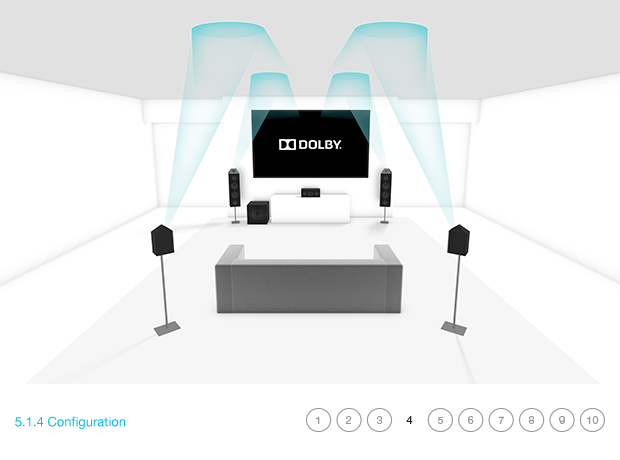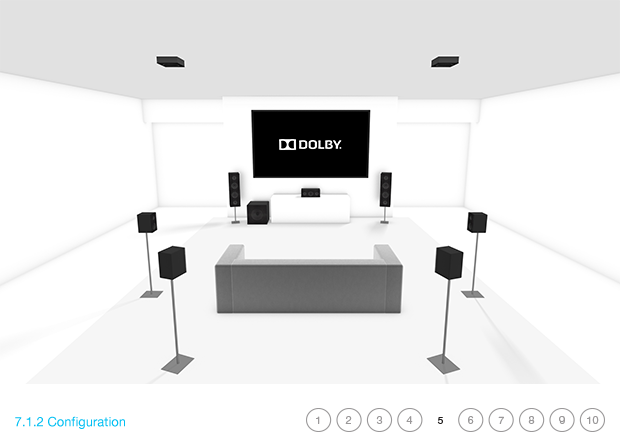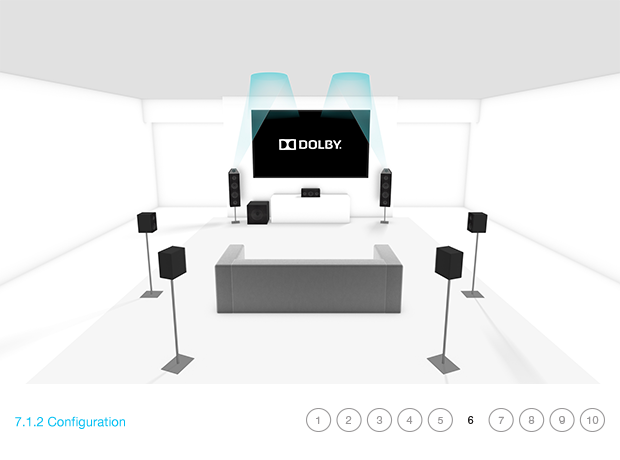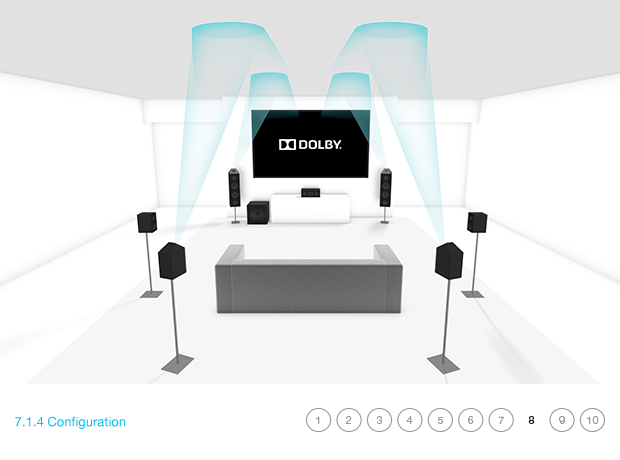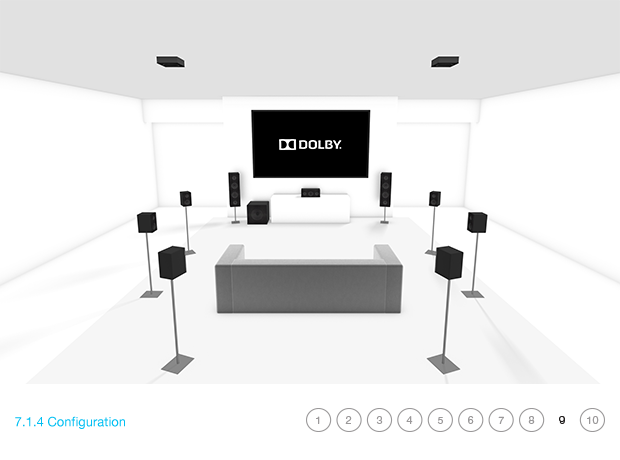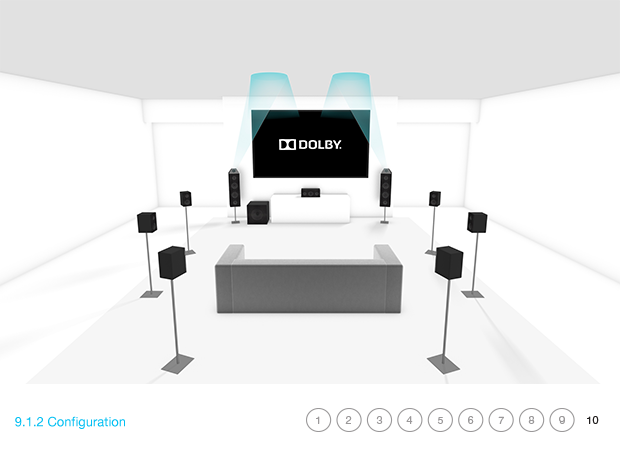 How does Dolby Atmos cinema content transition to home theaters?
The Dolby Atmos experience in the cinema is powerful and flexible because of its revolutionary use of audio objects. To deliver the full object-based soundtrack to home theaters, Dolby developed new authoring tools and new encoding methods for home theater that take into account the spatial information of the sound objects to efficiently encode them in Dolby® TrueHD and Dolby Digital Plus™. This spatial coding is not a channel-based, matrix-encoding system like Dolby Pro Logic® II or Dolby Pro Logic IIz. Instead, this fundamentally new coding technique allows all the audio objects created for the cinema to be used in the home theater. Nothing is lost. Initially, home theaters will be able to play Dolby Atmos content on Blu-ray Disc™ media or through streaming video services. No matter the source, when a Dolby Atmos stream is fed to an A/V receiver (AVR) or sound bar compatible with Dolby Atmos, the processing will render the object-based audio to your system's unique speaker configuration to precisely recreate the sound the filmmakers intended. Because the object-based audio mix is delivered to home theaters, Dolby Atmos has the ability to adapt to extremely diverse speaker setups, from sound bars to systems with five speakers on the floor and two speakers producing overhead sound to Dolby Atmos supersystems with 24 speakers on the floor and 10 overhead speakers.
Who is creating content, such as movies, for Dolby Atmos in the home?
Globally, more than 300 cinema blockbusters have been released featuring Dolby Atmos soundtracks since 2012, and many more are on the way. Major Hollywood studios have partnered with Dolby to release home video versions of current box-office releases and previously released favorites. Dolby Atmos movies for the home are available now, with more than 40 Blu-ray™ titles already available worldwide. In addition to global studio partnerships, Dolby is partnering with game and music content creators to take advantage of Dolby Atmos technology for future home theater use.
How does Dolby Atmos audio work?
Until now, cinema sound designers have had to mix independent sounds together into channels for soundtrack creation. A discrete sound, such as a helicopter, has been assigned to an individual channel rather than precisely to where it would occur naturally in the scene. While a sound can move across channels, there's no height dimension. For example, you might hear the helicopter from a side channel and not above you. This approach limits your audio experience because it can't come close to matching the way you hear in real life, with sounds coming from every direction.
Dolby Atmos is the first home theater system that is based not on channels but on audio objects. What is an audio object? Any sound heard in a movie scene—a child yelling, a helicopter taking off, a car horn blaring—is an audio object. Filmmakers using Dolby Atmos can decide exactly where those sounds should originate and precisely where they move as the scene develops.
Thinking about sound in this way eliminates many of the limitations of channel-based audio. In a channel-based system, filmmakers have to think about the speaker setup: Should this sound come from the left rear surrounds or the left side surrounds? With Dolby Atmos, filmmakers just have to think about the story: Where is that yelling child going to run? How will the helicopter move overhead after takeoff? The Dolby Atmos system, whether in the cinema or the home theater, has the intelligence to determine what speakers to use to precisely recreate the child's movement in the way the filmmakers intend. They can now precisely place and move sounds as independent objects in multidimensional space, including anywhere overhead, so you can hear them as you would naturally.
A Dolby Atmos home theater is also far more flexible and adaptable than a channel-based home theater. In a channel-based system with channel-based content, the number of playback 2 speakers is fixed: a 7.1 system consisting of seven speakers and one subwoofer is used to play 7.1-channel content. Additionally, there is no height information in the content. With Dolby Atmos, in contrast, you have amazing flexibility: the format provides even richer, more detailed sound by rendering to overhead or height speakers and/or to more than seven speakers at the listener's level. As you add speakers, a Dolby Atmos enabled receiver will use them to create even more fantastic, immersive audio.
The flexibility of the Dolby Atmos format also allows the audio to be rendered to deliver an amazing sound bar experience. This enables an amazingly accurate, enveloping audio presentation, including overhead audio, from the form factor and convenience of a sound bar. With the revolution in audio that is Dolby Atmos, sound designers are freed from channel restrictions. Sounds flow above and around you in step with the visuals, bringing a new sense of height and reality to your listening experience. Dolby Atmos helps weave the audio story to match what's happening on the screen.