Best A/V Receivers on the Market
Why choose an A/V receiver? With an A/V receiver, everything you need to drive a music and home theater system is contained in one component. They are a space-saving, cost-effective alternative to separates (i.e. a preamplifier, A/V processor and separate external power amplifier). Anthem MRX receivers continue to win awards for their sound quality and ease of integration, and best of all, include ARC™—the Anthem Room Correction system. Read more about this exciting technology below.

Control at your fingertips! The MRX Series Control App controls all MRX 710/510/310 A/V receivers from your iOS device – download for free on the Apple App Store (for iOS devices).
Do I have options? With Anthem you always have options. You can purchase award-winning Anthem separates: a power amplifier (or multiple amplifiers!) to drive your speakers and an A/V processor to select the source (i.e. DVD, Blu-ray player, etc.), decode surround sound, control volume, manage bass, process and/or down-convert video content and send it to the TV/display, send audio to the amp(s), send music to other zones in the house, and control other system devices.
Either way, you can't go wrong. It comes down to preference and budget. However, paired with Paradigm speakers, MRX receivers do it all! Now in their second generation, they are a simple, direct and economical route to outstanding music and home theater.
Enhancements to MRX Series
Superb high-quality amp performance includes Anthem's Advanced Load Monitoring to keep a constant eye on output.
ARC® 1M, an enhanced version of Anthem Room Correction ensures the speakers' award-winning sound isn't lost in a less-than-perfect room situation.
Outstanding power – 7 channels in MRX 710 and MRX 510; 5 channels in MRX 310 (see Technical Specs section for power output).
More HDMI inputs! 7 + 1 = 7 rear inputs and one front-panel input on MRX 710 and MRX 510. 7 rear inputs on MRX 310.
Dual HDMI outputs.
4K Upscaling and Pass-Through.
HDMI Audio Return Channel.
Faster HDMI switching.
Up to 20 input configurations.
Software updates via the USB port.
More robust control: IP and RS-232 control drivers for full integration with automation.
Larger, easier-to-read on-screen menus and improved status displays.
Dual speaker configuration.
Speaker crossover now adjustable in 10-Hz Increments.
Optical, coaxial and analog inputs send 2-channel music to Zone 2.
Bi-amp the front Left/Right speakers with MRX 710 and MRX 510.
Power consumption in standby mode: <0.3 W.

* Enhancements apply to all models unless otherwise stated.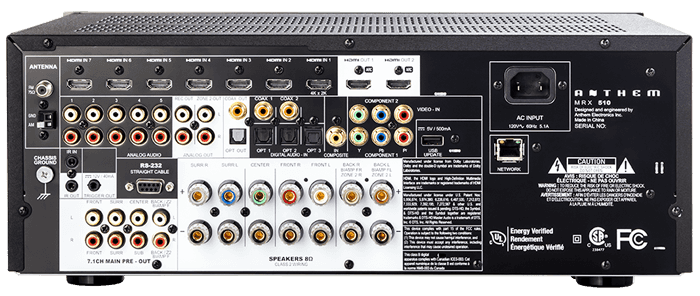 "Among the numerous room correction systems I have tested, ARC® currently stands out as the best."
– David Rich, Secrets of Home Theater & High Fidelity
MRX Features
Video Conversion from Composite Video and Component Video to HDMI
1080p24 mode
Dolby Volume
AM/FM Tuner
3D support
Decoding
Dolby TrueHD and Dolby Digital Plus
DTS-HD Master Audio and High-Resolution Audio
Listening Modes
AnthemLogic – Cinema, Music
Dolby Pro Logic IIx – Movie, Music (including Center Width, Dimension and Panorama adjustments)
DTS Neo:6 – Cinema, Music
All-Channels – All-Speaker Stereo
Inputs
8 HDMI inputs (7 rear and 1 front-panel input on MRX 710 and MRX 510, 7 rear inputs on MRX 310)
Analog Video Inputs: 1 Composite + 2 Component
Digital Audio Inputs: 2 Coaxial + 3 Optical
5 Stereo Analog RCA Inputs
HDMI On-Screen Display – setup, video adjustments, status, song/artist info from radio stations
Custom Installation
IR Control
RS-232 Control
IR Emitter Output
Trigger Output
Second Audio Zone
Additional Features
Backlit Remote Control
Sidemount Rack Kit (sold separately)
Warranty

A VERSION SPECIFICALLY
DESIGNED FOR THE NEW MRX
Why ARC® Remains The Best Room Correction System On The Market
What's New in ARC® 1M
Connects via ethernet.
A higher level of digital signal processing allows for even greater precision in correction curves.
Print 'before and after' room-measurement graphs.
Why ARC® continues to be important
Even when the finest speakers are perfectly positioned, the room can have a dramatic impact on sound quality. Room dimensions, dead spots, archways, even furniture can turn a room into an additional instrument adding unwanted coloration and resonances.
ARC® adjusts for the room's effect on the speakers in a way that mimics our hearing. This way your Anthem gear and Paradigm speakers can do what they do best: allow you to lose yourself in the music or movie.
How does ARC® do what it does?
ARC® analyzes each speaker's in-room response then sets output levels, crossover frequencies and correction parameters for each.
ARC® applies correction for up to 7 channels plus the sub!
Unlike other room correction systems, ARC® allows for multiple microphone measurements. Multiple mic positions allow for peaks and nulls to be identified allowing for far more accurate room correction.
ARCuracy! The connected PC's 64-bit floating point processor calculates the correction curves to the n'th degree of accuracy.
Separate configurations for music, movies or any other application where more than one configuration is useful.
ARC® applies correction to peaks and dips in room response – a far more natural and accurate response tackling both!
Fully automated or manual setup – with ARC® you choose!